NEARSIGHTED – FARSIGHTED – ASTIGMATISM - READING GLASSES
Experience the difference with LASIK by Dr. Manger!
Schedule Your LASIK Exam In Orange County Today
Note: LASIK Exam Appointments Are Approx. 2 Hours Long
Mon
Tue
Wed
Thu
Fri
Sat
Sun
Saddleback LASIK Eye Center is the top referred LASIK eye center in Orange County! Our #1 trusted doctor, Dr. Manger, has performed over 93,000 procedures! Schedule your free 3D LASIK exam today to lock in our special pricing in Orange County.
Online
LASIK Test
See if you're a candidate for LASIK surgery. Take this quiz to find out now.
Schedule a Free
3D LASIK Exam
Limited availability.
Schedule your Free* Exam now!
Coming From Outside
of Orange County?
Learn More About Our
Complimentary Hotel Stay
LASIK Prices
& Monthly Promotion
Click here to
save up to $1,300* on LASIK.
Watch Our
Webinar - Save $100
Meet Dr. Manger! Talk to actual LASIK patients! Take our technology tour!
Schedule Your LASIK Exam In Orange County Today​
Note: LASIK Exam Appointments Are Approx. 2 Hours Long
Mon
Tue
Wed
Thu
Fri
Sat
Sun
Patients Around The World
Virtual Tour of Saddleback Eye Center
Why Choose
Dr. Manger

:
A World-Class LASIK Expert
Dr. Manger is one of the most experienced LASIK surgeons in the world. Patients travel from all over the globe to have LASIK surgery by Dr. Manger in Orange county because of his reputation as a world leader in LASIK, as well as for the excellent visual results he gives his LASIK patients. Dr. Manger utilizes the most advanced LASIK technology available, having eight different lasers, and has a caring, professional staff who will be with you every step of the way.
Results: 99.7%
99.7% of Dr. Manger's patients see 20/20 or better- and the other 0.3% are happily seeing 20/30!
Experience:
Dr. Manger has personally performed over 93,000 LASIK procedures since 1996. He is the only LASIK surgeon at Saddleback Eye Center in Orange County.
Expertise: The Only LASIK Expert
Dr. Manger performs LASIK surgery 5 days a week, 49 weeks per year. His practice is 100% committed to LASIK only. Dr. Manger is the only LASIK surgeon in Southern California who has one office, one surgeon, one specialty- LASIK only- which allows him and his expertly trained staff to attend to every patient's needs before, during, and after the LASIK procedure.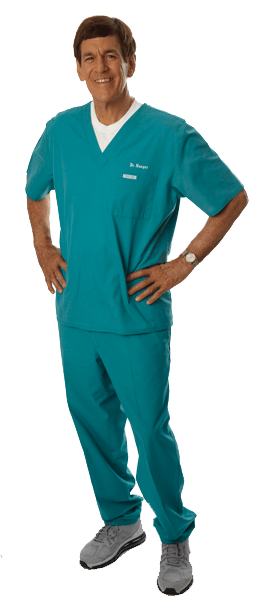 "I decided a long time ago to limit my practice to LASIK only. I figured if LASIK was the only procedure I did, I'd probably do it better than anyone else."
Meet The Staff Who Have Had LASIK By
Dr. Manger
"Goodbye contacts!"
Melanie is a Patient Counselor. She had LASIK with Dr. Manger in 2019 and had such a great result that she referred both her dad and husband.
LASIK Eye Surgery In
Orange County
FAQs
*Offer limited to 10 free LASIK exams per day. Regular fee schedule available at time of consultation. $200 exam fee will apply to patients who have had any previous eye surgery. This fee will be applied towards surgical procedure.
On occasion, the Intralase procedure cannot be performed on a patient due to various eye conditions such as corneal scarring, small orbits or previous refractive surgeries. In these cases, PRK may be considered as an alternative to LASIK.
Cannot be combined with other offers or insurance. LASIK $1,950-$3,350 per eye. $800 discount when LASIK is performed on both eyes. Single-eye LASIK procedures receive a $400 discount.
Receive an additional $250 discount per eye when you have your LASIK exam and LASIK procedure done on the same day. Regular fee schedule available at time of examination. Cannot be redeemed for cash. Certificate has no cash value.
LASIK is a surgical procedure intended to reduce and potentially eliminate your need for glasses or contact lenses. As with all surgical procedures, there are risks that will be discussed with you prior to having your procedure. These risks include, but are not limited to fluctuating vision, visual symptoms like glare or haloes around lights, dry eyes that require eye drops, and the occasional need for a retreatment.